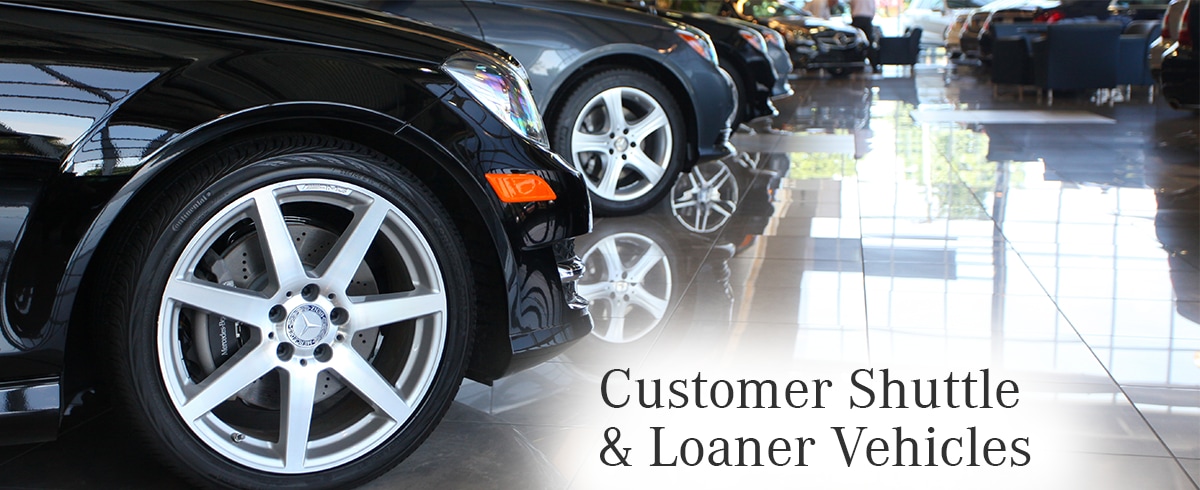 Customer Shuttle Information
Courtesy shuttle transportation is available to your desired destination within the Paramus, NJ area. Return transportation is also available when services to your vehicle are completed. Please contact your Service Advisor in advance to reserve your spot on the shuttle.
Loaner Car Policy
At Mercedes-Benz of Paramus, we offer a complimentary loaner vehicle for factory-scheduled Mercedes-Benz maintenance, with available pickup and delivery to your home or office. We kindly request your cooperation in following a few basic policies while driving your loaner vehicle:
Complimentary loaner vehicles are provided on an appointment basis. Please call in advance of your arrival to make an appointment for your loaner vehicle.

Due to insurance regulations you are required to provide proof of insurance.

You must be at least 21 years of age, the owner and named insured of the vehicle in for service (your insurance policy and provider will be the primary in the event of a motor vehicle accident).

The driver of the loaner vehicle will need to present a valid drivers license and a major credit card.

Only the person(s) listed on the rental agreement are eligible to operate the loaner vehicle.

All highway-bridge-tunnel tolls, as well as traffic and parking tickets are the responsibility of the driver.

You are authorizing the use of the listed credit card for the payment of any traffic, parking, or tolls violations while the loaner car is in your possession.

Please ensure that the loaner vehicle is inspected with our loaner staff prior to leaving our premises. All damage not noted on the original condition report are the responsibility of the driver.

We are not responsible for personal property left in the vehicle.

In case of a motor vehicle accident you must provide a police report and provide a claim number from your insurance company at the time of the accident and prior to vehicle return.

Smoking and pets are not permitted in our loaner vehicles. A $300.00 detailing fee will apply.

Use of loaner vehicles outside of the metro New York area or more than 200 miles of the dealership is not permitted

In an effort to maintain an ample inventory of loan vehicles for all Mercedes-Benz of Paramus clients, this vehicle must be returned within 24 hours of the completion of service, or is subject to $150.00 per day rental charge

Mileage is limited to 100 miles per day and any excess mileage may result in the customer being charged 20 cents per mile exceeded.

The loaner vehicle must be returned with the same level of fuel as when received. Mercedes-Benz of Paramus reserves the right to charge you $5.00 per gallon to bring the vehicle back to the same fuel level.
Thank you for your continued patronage and for abiding by the policies that make it possible to provide this service to you.
Please understand that our loan car program is a dealer program offered by, and at the expense of, Mercedes-Benz of Paramus. The exclusions are only so that we can best serve our clients. Mercedes-Benz of Paramus reserves the right to discontinue loan car privileges to those violating the policies above, and terms of our Loan Car Policy are subject to change without notice. 
Thank you and enjoy the ride.