Wheel/Rim Straightening
At Mercedes-Benz of Paramus, we are privileged in our ability to provide quality automotive services in Paramus, Ridgewood, and Fair Lawn, New Jersey along with its surrounding areas. Alongside our competitive pricing and unparalleled customer service, Prestige Motors likes to offer select specials on vehicle services that we call service specials.
Benefits of Wheel/Rim Straightening.
A lengthier vehicle lifespan. Bad tires are the roots of a surprising amount of mechanical mayhem.
Prevention from unforeseen mechanical issues that may arise from the neglect of your wheels. Straight wheels and rims can not only prolong the lifespan of a vehicle, but will provide you with a smoother, safer ride. Remember, healthy is better.
A break on your wallet. Preventing unforeseen mechanical issues by routinely caring for your vehicle will potentially save you lots of cash in the future. Even routine checkups on your car serve this same purpose.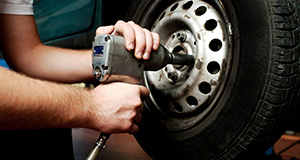 Serving
Paramus

,

Ridgewood

&

Fair Lawn

755 NJ-17, Paramus, NJ 07652
Certified Technicians and Mechanics
Along with an unmatched prowess for all things automotive, our certified automotive technicians are certified professionals who are experts in their brand. Individual automotive technicians must undergo extensive training to receive the required certifications needed to properly perform maintenance on your vehicle, and through vicarious studies they have succeeded.

While experts in their brands, our certified automotive technicians are also experts in all vehicle types regardless of the make, model, year, and style of the vehicle. Extensive training in their field has delivered them the knowledge, expertise, and hands-on experience necessary to prepare them for their work. Combine that with a unfiltered passion for all things automotive, and you can see why our certified automotive technicians are so recognized for their work.
Why Do We only Use OEM Parts?
It is our promise here at Prestige Motors to only use OEM (Original Equipment Manufacturer) parts on your vehicle. OEM parts are designed only for your brand of vehicle; i.e., OEM Ford parts solely come from the Ford manufacturer. How OEM parts compare to the aftermarket parts offered at most service centers:
OEM parts are designed solely for your brand of vehicle. This is to ensure maximum value, quality, and aesthetics.
Aftermarket parts are often chintzy unless you are willing to pay top dollar for them. Even then, OEM parts are generally of a higher quality.
OEM parts almost always come with extended warranty options that simply aren't available with aftermarket parts. Not only will you pay a competitive price for your OEM parts, but you will also get more bang for your buck.