2019 Mercedes Benz E300
Find Yours
View Specials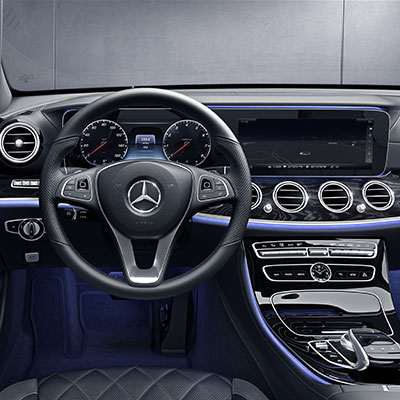 2019 Mercedes-Benz E 300 Exterior Features
DYNAMIC SELECT®
Define the Drive
Put your own personal stamp on the quality of a given ride inside the new Mercedes-Benz E 300. With DYNAMIC SELECT® - performance inputs you can access through the cabin console - four different drive modes tailor ride quality accordingly by adjusting respective steering, throttle and shift responses. From ECO to Comfort, Sport, Sport+ and even a fifth option you can design yourself, this multi-mode driving program makes every trip feel unique.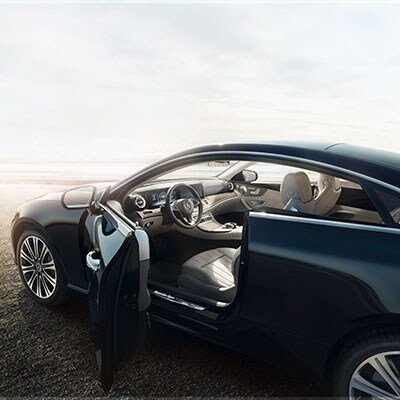 Body Design
Captivate as you Pass
From seamless sculpting to a fluid profile that emphasizes a professional appearance with sporty influence, arriving in the new Mercedes-Benz E 300 naturally attracts attention. This new Mercedes-Benz sedan adds to its sleek frame by offering 2.6-inches more between the wheelbase while incorporating LED headlamps and taillamps for a brilliant glow that enhances the captivating allure which draws spectators in.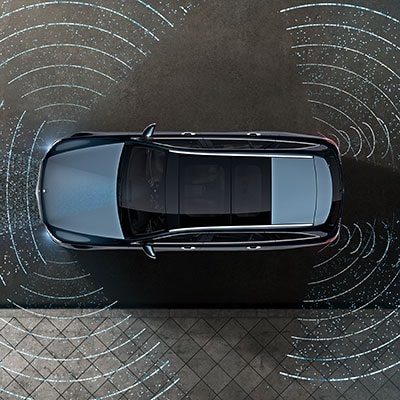 ATTENTION ASSIST®
A Modern Drowsy Driving Solution
A driver who is tired from a long trip and beginning to lose focus can begin to veer out of the travel lane and cause dangerous driving scenarios for surrounding operators. But with ATTENTION ASSIST® in the new Mercedes-Benz E 300, driver-assist tech that studies 70 different parameters of your driving behaviors in real time, visual and audible alerts are immediately provided when drowsiness is detected and you need response reminders to get back on track.

More Features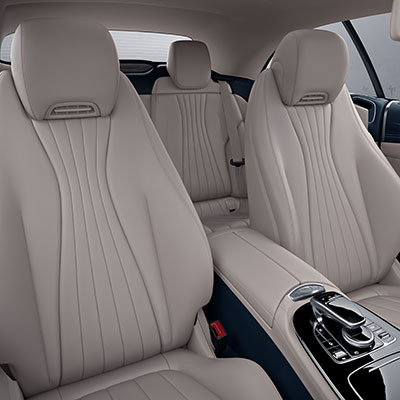 2019 Mercedes-Benz E 300 Interior Features
Three-Zone Automatic Climate Control
Set your Own Comfort Standards
Do you prefer to command your own cooling or heating settings within the cabin? With three-zone automatic climate control, featuring custom temperature knobs that you can seamlessly adjust on your own side and from the back row, each accompanying guest along for the drive can establish personal levels of comfort with fewer arguments regarding built-in settings and what options respective travelers enjoy.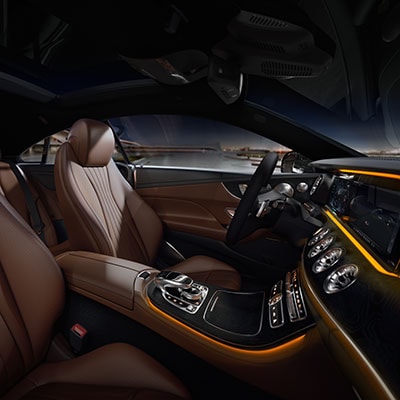 High-Resolution Center Display
Fast-Paced Digital Engagement
Ready to maximize digital options on the move and remain connected throughout the drive? Using a standard 12.3-inch high-resolution center display, the new Mercedes-Benz E 300 incorporates a responsive digital interface that allows you to flip through different applications and systems effortlessly. From its high pixel count to enhanced refresh rate and responsive lighting adjustment, you can access different navigation, music streaming and messaging settings and quickly engage with these sources of infotainment.