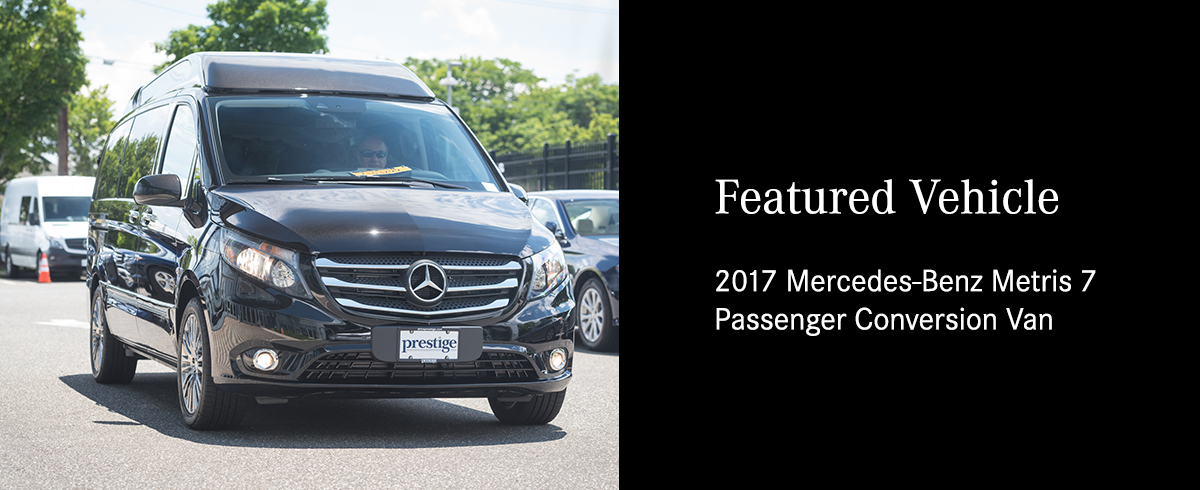 Featured Vehicle:
Custom Built 2017 Mercedes-Benz Metris 7 Passenger Conversion Van
 

Exterior Color:

Obsidian

Interior Color:

Tunja Black

Engine: 

2.0L I-4 Engine

Transmission:

7-speed automatic

Stock #: 

M4387

VIN: 

H3320866

Sale Price:

$60,000*
This vehicle also features the below. Please
contact us
if you are interested in this vehicle or if you would like to learn more.
Vehicle Features: 
Raised Roof with Rear Sunroof

Navigation  

AM/FM/Sat Radio

Bluetooth with Streaming Audio

22-inch Flat Screen Monitor

Blue Ray DVD Player with WiFi capability for Netflix, YouTube & Pandora

Rear View Camera

Front & Rear Sensors

Blind Spot Monitoring

Lane Departure Assist

Heated Front Seats

Second Row Captain Chairs

3rd Row Bench Seat with Under-Seat Storage Drawers

On-Board Vacuum Cleaner

*Excludes tax, title & license fees. See Mercedes-Benz of Paramus for details.